In this article, I will talk about the YOWhatsApp Application, which is the most popular and best of WhatsApp Plus, I will give information about the features of the application and how to download and install it, we recommend that you read our article to the end.
We can't imagine WhatsApp without you one day because it has become an integral part of our lives. While WhatsApp offers us many features like Free Messaging and Chat, sometimes these features are not enough for us. For example, if we want to send a large file, the official WhatsApp limits this or you want to use an additional WhatsApp for your business. YOWhatsApp + Plus is here to help you, download and test the following features of YOWhatsApp.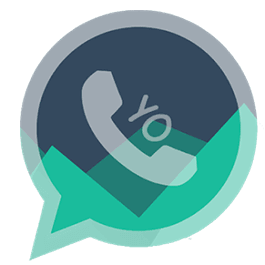 | Size | Version | Last update | Downloaded |
| --- | --- | --- | --- |
| 39.62 MB | 8.35 | 03.08.2020 | 402 |
Download
Also AZE PLUS , WhatsApp Aero >, NSWhatsApp Plus
YoWhatsApp APK Features
There are many features that are not available in the original application. We offer you the essential features.
This application allows you to choose from over a hundred languages. This means you can communicate in many languages. You have the right to choose the language you want. A new Azerbaijani language has been added to the application.
You can block calls from any contact or unsaved number. Call blocking option is not available in the original WhatsApp APK
. These features give you more control and privacy.
YoWhatsApp APK can set an image in the background
is the wallpaper. Your communication is visually more pleasant.
This app supports White Navigation for Android 8.0, which provides more flexibility and additional functionality.

The

Themes library is full of new designs and themes. And you can choose from thousands of layouts and colors.
You can create a theme.zip file that allows you to automatically save themes and easily transfer themes to another device.
You can change the color of the group member's name which is a cool feature. And it is aesthetically appealing.
FAB has been added to your call screen. The original application does not have this feature.
You can choose the color of the ticks, which provides a new communication experience.
Cool bubbles have been added to the application.
You can hide your online status, providing more privacy and control when communicating.
You can send ten pictures in a single message to your contacts. The original application only allows you to get four images.
File sharing is surprisingly good. You can send a 700 MB file in one message.
You can hide the blue check mark.
You can change the check style and balloon style.
The default interface is blue.
You can send HQ pictures by pressing the camera button.
YoWhatsApp APK allows you to set your name on the screen.
You can close more than 1000 conversations.
You can also use fingerprint lock to hide conversations.
A search privacy feature has been added to the application. You can now choose who to call.
You can change the font of the name and status.
Group message counter is available in the App.

You can contact toast online.

You can choose from hundreds of emoji from the library.
You can set privacy for groups and chats.
Your status can be longer than 250 words.
You can enlarge the profile pictures.
You can change the application icon.
Previous bugs were fixed in the new version.
YoWhatsApp + APK installation requirements
You only need an android phone.

You must have an internet connection.
You need to have a little bit of mind to understand the steps 🙂
You must have a downloaded application.
YOWhatsApp APK Installation Instructions
Device memory

Download

Find the YOWhatsApp APK

Next, open the APK and click the install button; You can wait a few minutes for the setup to complete
Enable unknown source install:
Go to settings
Security
Permissions
Allow unknown programs to be installed
Touch Setup
And open the program
YoWhatsApp APK
Best for performance is a modified version of WhatsApp. It is not available on Play Store but you can download it from third party sites. You need to be careful while downloading the correct YOWhatsAPP APK package. Otherwise, you can download some malicious files as well. so use only AZEPLUS.COM
The Final Word
By using YoWhatsApp, you get more functionality, more privacy and freedom. In addition, the modified version of WhatsApp has over 20 new features. However, there is a risk of using a modified version. First of all, you can get a ban from WhatsApp Plus, which may result in loss of important data and messages. Therefore, you should think carefully before using YoWhatsApp as it is not on the list of legitimate apps. We recommend that you weigh the pros and cons and decide.